That's very kind of your hubby, guess there's a hole free for me!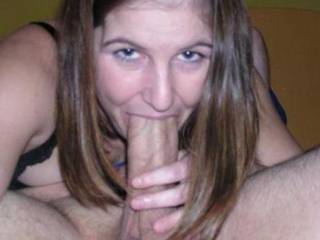 I'd take hold of both your hands and interlace our fingers together. With both of our hands laced together, your palms on the back of my hands, placing our hands on the back of your head, bundle up your hair in a ponytail and manipulate your mouth up and down just putting my cock head in your open mouth at first. Pull my cock out tell you "Spit on my cock, now stick your tongue out as far as you can" Flexing my muscle so my cock bounces slapping my cock up and down on your tongue and slide it all around so your spit covers the length of my cock, once its covered put it back in your mouth, but this time its going all the way in and down your fucking throat. I'd tell you "Come on you naughty girl suck my cock like you mean it"
 When I'm ready to cum, pull my cock out and spray paint your face and tits, but save the last squirt for your mouth, put it back in your mouth and tell you "good girl now suck the last drop out of my fucking cock" Oh, you're such a naughty girl! Bet you enjoyed that, and him and hubby too! Thanks for sharing. You're a great girl! I hope you have many more! I'd love to be next, and I'd even bring my buddies if you're willing! You can tell by the look in her eyes she LOVES sucking cock, especially infront of hubby. Id like to fuck you from behind at the same time and fill you with my hott cummm. Wow you look so hot with the cock in your mouth love your hot eyes.